Voyager Pro, The Connected Rider's GPS. Trail Tech offers a variety of model specific and universal kits for complete vehicle integration. All kits include mounting hardware, tach sensor, and power connection. Temperature and wheel sensors vary by kit, see kit contents for details. Adventure Begins Here!
Trail Tech Voyager Pro, the Connected Rider's GPS. A premium off-road GPS with 4 inch color touchscreen anti-glare display, sealed and rated IP67 for anti dust/water intrusion
The map screen is enabled with base maps, topography lines, hill shading, and some trails. Record or load GPX trails and riding areas, and transfer to a PC using the MicroSD card. Voyager Pro comes loaded with North American maps, but other map regions can be downloaded for free.
Amongst the major features is Buddy Tracking. Buddy Tracking uses localized radio signals and can support up to 20 riders in a single group. View members of your ride group on the map screen in real time, increase your following distances, and use the buddy beacon to summon your buddies. Cell reception is not required.
Buddy tracking displays the current location of up to 20 members of your ride group on the map screen
Voyager Pro is Bluetooth enabled for intercom, phone and media controls. Play songs from your phone or MicroSD card using a Bluetooth headset, speaker, or intercom. Two phones and two headsets can be connected at the same time.
The 4 inch glove friendly color touchscreen TFT display is visible in all conditions, including direct sunlight. Sealed and rated IP67 for anti-dust and water intrusion, it is built to withstand the harshest elements that come with extreme riding conditions. The mounting dock hard mounts to the dashboard, can be locked, and allows for quick removal of Voyager Pro from the machine. The dock utilizes the AMPs hole pattern, and is compatible with the full line of RAM brand mounts or Trail Tech mounting hardware.
Voyager Pro integrates with your vehicle using standard Trail Tech vehicle sensors, providing vital ride data such as engine temperature, RPM, battery voltage, speed/distance and more.
At 5.6 x 3.5 inches, Voyager Pro still fits on dirt bike dashboards, but is big enough to use on adventure bikes and UTVs. Voyager Pro's mapping abilities and buddy tracking make it the premium choice for off-road riders.
VOYAGER PRO WHAT'S INCLUDED IN THE BOX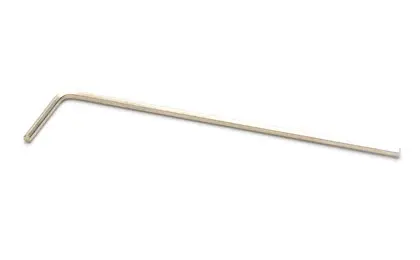 DOCK LOCK
F-9200-005
Allen Wrench
BONUS SWAG
010-SWAG
Random Keychain or Sticker
VOYAGER PRO INSTRUCTIONS AND MANUALS
VOYAGER PRO SCREENS AND ABILITIES OVERVIEW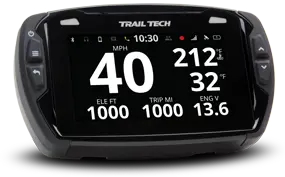 CLUSTER SCREEN
Dashboard Gauges
Get speed from the GPS or a wheel sensor. Displays speed, temperature, distance, elevation and voltage.
TACHBAR SCREEN
"Everybody loves the tach graph!"
The tach screen is dominated by a large animated tachometer bar graph. It also displays ambient temperature, trip distance and current speed.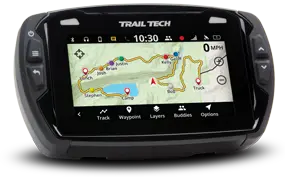 MAP SCREEN
GPS MAPS WITH BUDDY TRACKING
Color maps with topo and hillshading. Supports tracks, routes, waypoints. Plan and record entire trail systems. *Patent pending.
MEDIA SCREEN
BLUETOOTH INTERACTION
Control volume, song playback (phone or SD card), dialing, call history and messaging features. Compatible with Bluetooth headphones and headsets such as Lexin, Cardo and Sena.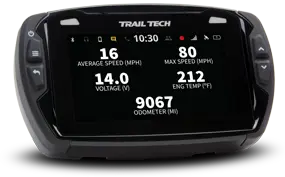 USER SCREEN
Choose your own gauges
The user screen is customizable. You can choose up to 6 gauge readouts from a long list of options. Select fewer gauges to make the remaining readouts larger.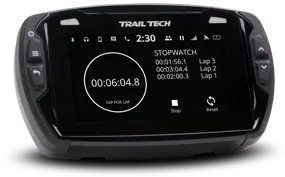 STOPWATCH SCREEN
Simple lap timer
Tap the large circle to begin counting. Tap it again to take note of the first lap off to the side and start timing a new lap.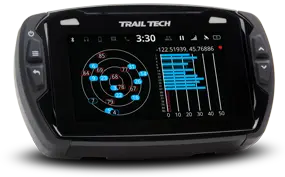 SATELLITE SCREEN
GPS satellites in range
The satellite screen displays a graph of the sky and visible GPS satellites in orbit. The graph to the side shows the relative signal strength of each satellite.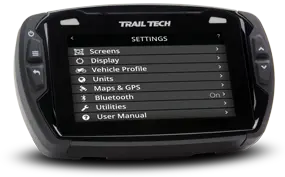 SETTINGS MENU
Detailed settings and user guide
The Settings Menu is where Voyager Pro is customized to your needs. You can access the settings menu from the main screens by pressing the menu button.